Shopping
You can feel the warmth of human value in every transaction. Before you begin your shopping tour on this island, please obtain cash because most places do not accept credit cards.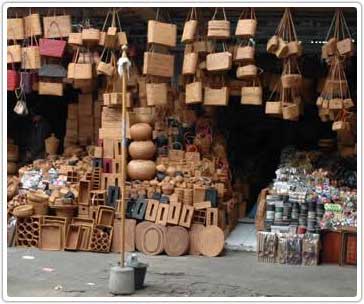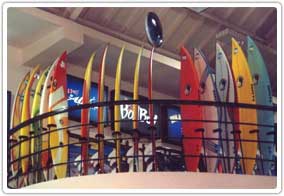 Beach
Kuta in addition to being the sunset site number one, with its daily spectacular sunsets. Restaurants line up the streets as well as the beachfront, hotels, ranging from a small, inexpensive homestay to a luxurious resort, will ready accomodate you.
The beach of Kuta is one of the first favorite beaches discovered by tourist.
Sanur is an excellent site to watch the sun rises, as you jog along the white sandy beach. Being one of the first resort developed in Bali, Sanur maintains its traditions. Only a stone thrown away from the beach, ancient temples stand as solemn as they have been in centuries past.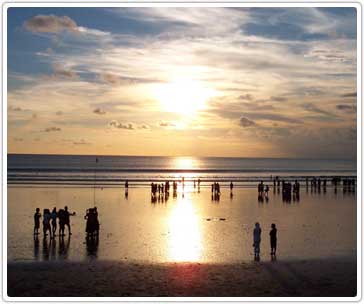 Water Sport
Bali, as an island, is surrounded by sea. All year-long, sunshine gives you a chance to enjoy many offshore attractions.

Diving and Snorkeling are among major attractions in Bali. Divers can view various marine creatures, such as colorful tropical fish and coral reefs.
The popular sites are located on the southern part: Sanur and Nusa Island (Lembongan and Nusa Penida); in the western part are Labuan Lalang, Menjangan Island; in the north of the island is Lovina.
Feel your heart beat faster then ever on a natural "water-slide" and refresh your mind by seeing natural gardens along the riverside in Bali Rafting .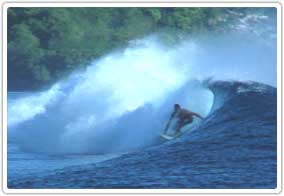 Night Life
Ubud is not renowned as a hot place for the wilder kind of nightlife. The community treasures its traditional atmosphere, and a civilized and safe atmosphere on the streets.
Everybody looking for some action and fun in the evening goes to Kuta. There are several places such as CASABLANCA, PEANUTS Discotheque on Jalan Raya Legian, SANTA FEE Bar & Grill, Jalan Abimanyu No. 1, SPY BAR, LIQUID, Q Bar (for the alternative lifestyle). Later, from 2:00 a.m., it's party time at the PAPARAZZI LOUNGE and DOUBLE SIX, a large open-air disco with several bars, big dance floor, and many tables. Both are located next to each other on the beach in Seminyak.
READ MORE - Bali 2